Hörmann Garage

Doors | Overview
Hörmann Sectional Garage Doors -> Hörmann Roller Garage Doors -> Hörmann Up and Over Garage Doors -> Hörmann Sectional Duragrain
Download a Brochure
Click on the icon below to download a brochure:
Hörmann Roller Garage Doors Brochure
Hörmann Sectional Garage Doors Brochure
Hörmann Up and Over Garage Door Brochure
Hörmann Duragrain Surface Brochure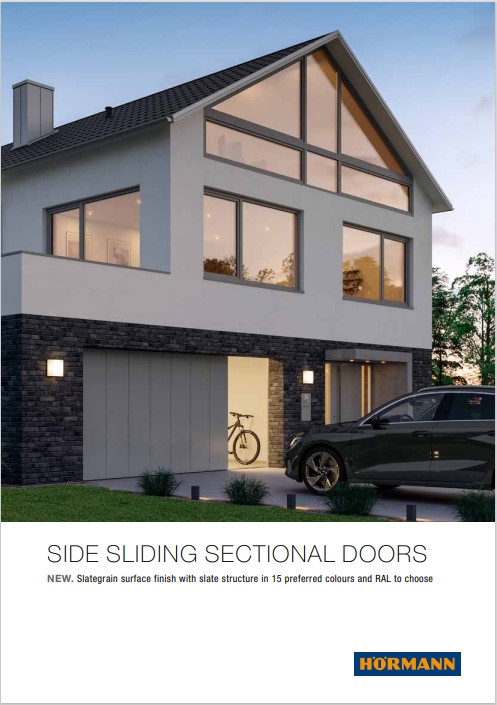 SIDE SLIDING SECTIONAL DOORS
DOOR OPERATORS AND SMART HOME SYSTEMS
Hörmann Garage Doors come in a number of different styles:
Hörmann sectional doors are a space-saving garage door option thanks to their vertical opening. Manufactured to be durable and secure, these garage doors are not only convenient to use but also allow you to retain full use of the space both directly in front of and behind the garage opening. Our sectional garage doors are suitable for use in most domestic garages and can offer you additional passage width in comparison to standard up-and-over doors.
Hörmann roller garage doors can be used for virtually any type of garage door opening, making them ideal for use in domestic garages where other door types would not be practical. Our RollMatic roller garage doors take up minimal space, allowing you to retain full use of the garage ceiling, along with the space directly in front of and behind the door. Available in a range of colours and finished, our RollMatic roller garage doors are manufactured to the highest standards from corrosion-proof aluminium for maximum durability.
The original up and over garage door offers you everything in one – quality and security, good looks and comfort, plus mature technology. Each Hörmann up-and-over garage door contains the expertise from over 50 years of building garage doors. Thanks to the wide variety of styles you are sure to find the right door for your home.
The steel designs are available in inexpensive Traffic white as standard, in 7 low-cost preferred colours, as well as in about 200 colours based on RAL (except for pearl effect, neon and metallic colours). Solid timber doors are available in Nordic Pine and Hemlock.
Hörmann Up-and-Over Garage Doors - Garage Doors Direct
For the Duragrain surface finish with its detailed, natural and colourfast door surface, you can choose from 24 decors, e.g. with a concrete (see Fig.), rusty steel or natural stone look. The innovative digital printing process in combination with the final coating of high-strength protective paint ensures a permanently beautiful and scratch-resistant door view.