Hörmann Up-and-Over Garage Doors
Hörmann Sectional Garage Doors -> Hörmann Roller Garage Doors -> Hörmann Up and Over Garage Doors -> Hörmann Sectional Duragrain
Download a Brochure
Click on the icon below to download a brochure:
Hormann Up and Over Garage Door Brochure - Garage Doors Direct
Combining quality with an attractive look
The original up and over garage door offers you everything in one – quality and security, good looks and comfort, plus mature technology. Each Hörmann up-and-over garage door contains the expertise from over 50 years of building garage doors. Thanks to the wide variety of styles you are sure to find the right door for your home.
The steel designs are available in inexpensive Traffic white as standard, in 7 low-cost preferred colours, as well as in about 200 colours based on RAL (except for pearl effect, neon and metallic colours). Solid timber doors are available in Nordic Pine and Hemlock.
For almost every door style Hörmann offers a matching side door. This way, the garage door and side door form a harmonious unit.
Up-and-over garage doors are tested and certified in accordance with the high safety requirements of European standard 13241-1.
Hörmann Up-and-Over Image Gallery
Why a Hörmann Up-and-Over garage door is right for you
1.
All-round protection through smart details
Flexible protective caps on the lever arms and the flexible plastic rails between the door leaf and the frame are just two examples of the numerous safety options for our up-and-over garage doors . They prevent accidental crushing or trapping.
Only Hörmann´s up-and-over doors have such a high safety standard.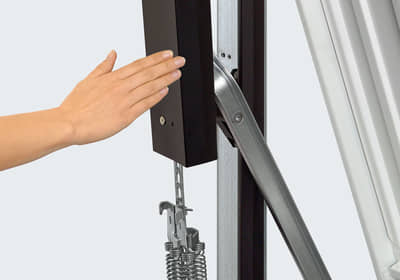 2. Long service life and optimal security
If one of the springs of the lever arms breaks after many years of use, the other intact springs support the door. This reliably protects the door from crashing. The distance between the spring windings is so minimal that even children's fingers are protected from getting caught.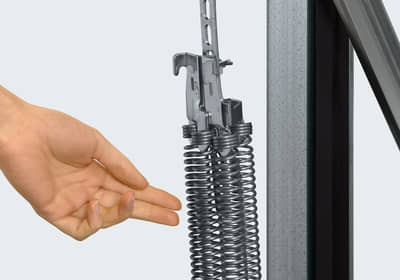 3. User-friendly opening and closing
When the door is opened completely, it is cushioned by the stop and comes to a safe, reliable halt in the track well.
When closing, the specially-formed lever arm presses the door against the frame tightly and the door pulls itself closed. This leaves no gap between the door and frame.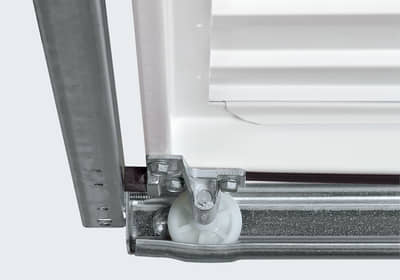 4. Secured by innovative locking
The unique rotary catch lock in Hörmann's up-and-over doors firmly fixes the corners of the door leaf to the frame, locking it much more securely than a common bolt lock. It is practically impossible to force the door open. You yourself can additionally equip the door with top locking using an optional retrofit kit.